Recommended in Lonely Planet Guide Books
Lalli Singh is a name that's synonymous with motorcycles, particularly Royal Enfield, a well-known name among biking enthusiasts not just in India but all over the world.
Ever since his humble beginnings in 1988 Lalli Singh, a master of the art of motorcycle customization and maintenance, owns and operates Lalli Singh Royal Enfield Bikes and Adventures – a full-service motorcycle establishment specializing in everything from sales, repairs, and maintenance to rentals, bike tours and customization of motorcycles.
So if you worship the art of touring, if these machines set your blood racing, and you seek the adventure of a lifetime, step into the world of Lalli Singh.
https://www.lonelyplanet.com/india/delhi/transportation/lalli-motorbike-exports/a/poi-tra/1156011/356220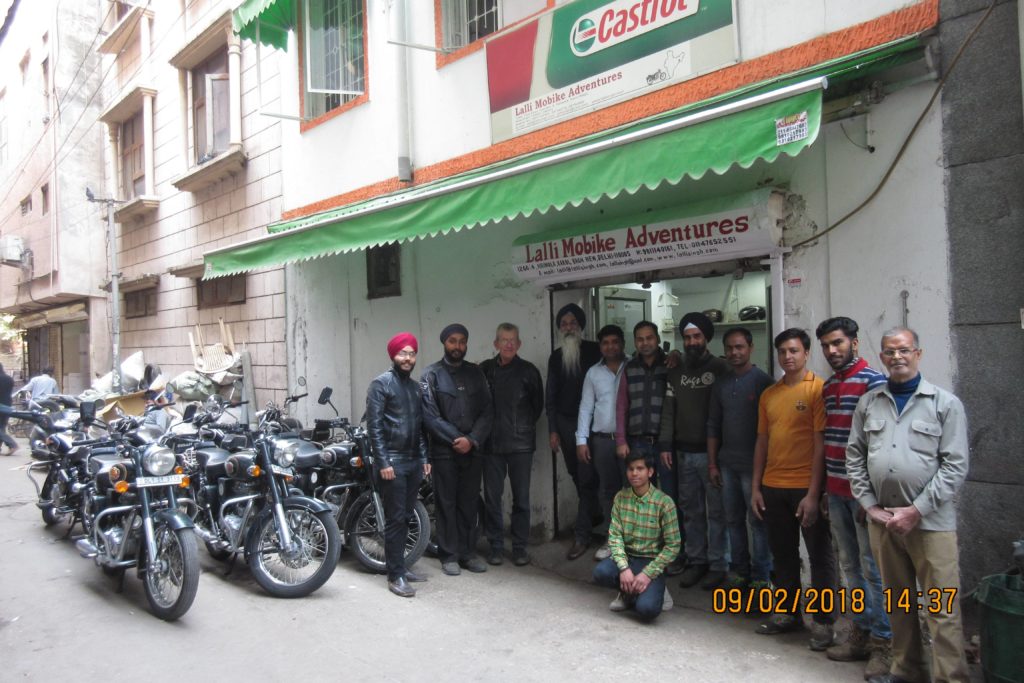 THE ROYAL SQUAD
There's one common thing that binds all of us together. THE UNTAINTED LOVE FOR MOTORCYCLES. ROYAL ENFIELD, in our case. We work together to make sure that no motorcycle is left unattended and unhappy. That's how we make way for your journeys, which are beyond the conventional ones.
Hafiz
Hafiz is a part of the team since 1990. There has never been a day when he has felt tired of repairing motorcycles.
Manali
Manali began with us as a helper when he was a kid. When we asked him his name and the last place he worked, he replied "Manali". We could feel a whiff of fresh mountain air and as the story goes, his official name has been Manali since then.
Waquar Ahmad
Waquar joined us as a helper, maintaining motorcycles. He has come a long way today and graduated to be one of the most skilled mechanics we value.
Rambo
The name says it all! He joined us in 2003 and has been an action guy on the move since then. He runs around everywhere to make sure that all the outside jobs related to our motorcycles are done on time.
Pinki Singh
Sincere and hardworking, Pinki Singh joined us in 1999. We see him putting his heart and soul in each and every task that he takes up.
TEJINDER SINGH
Tejinder has been looking after the data entry task of our motorcycles, since 2005. His dedication depicts one foremost thing – his undying love for bikes.
Tony Singh
Tony joined us way back in 1999, when he was just a 16-year old kid. Today, he is the man who takes care of our spare parts business and makes things work smoothly.
Imran
An ace Royal Enfield mechanic with us since 1990.
Ajay
Ajay is a Dedicated worker …Who Talks less and works more and Always smiling
Ravinder
Ravinder is a helpful guy who keeps the bikes shining and clean. We all love the tea he makes.
SHIPPING AND LOGISTICS
We provide assistance for transporting your motorcycle to your destination and can ship your motorcycle anywhere in the world.
QUALITY MOTORCYCLES

We have a large fleet of well-maintained motorcycles, managed and serviced by our expert team.
SPARE PARTS AND CUSTOMIZATIONS

We have Royal Enfield certified parts as well as various accessories to create your dream motorcycle.
TEAM OF EXPERTS

We have a dedicated team of mechanics and guides working with us for more than 20 years.
30 YEARS OF EXPERTISE
Established in 1988, we have gathered decades of experience in everything Royal Enfield.
CUSTOMIZED MOTORCYCLE TOURS

We offer customized motorcycle tours according to your Budget/Timeline/Destinations .
RECOGNIZED BY ROYAL ENFIELD

Royal Enfield India recognizes our services in the field of motorcycle rentals and customizations
TRAINING AND SAFETY

We have Royal Enfield certified parts as well as various accessories to create your dream motorcycle